View filters control what information is shown on the map.
Once you have set your filters, you can refresh the current view,
or fly to a new location and apply the filter there.
Switch to the

View filter
Note: even though site icons may differ from the selected carrier, those sites host co-located networks and will have assignments belonging to the chosen carrier - click on the site marker to find out. Also, results do not include network roaming.
Enter a complete or partial callsign to show.
You may use the * and ? wildcard characters to find matching HAMs and change the map's bounds to show them all.
Data is updated regularly and can be done on-demand by you.
If you believe sites are missing, right-click on the map and select 'Update tiles'.
If you wish to perform faster and/or more complex searches, use the search input text field above the map. The search overlay will open automatically to help you see how your query will be interpreted. Reading the brief help dialog is recommended.
A view filter comprised of multiple conditions can be built here. A search is NOT performed automatically after the filter is modified or cleared - you must click one of the 'action' buttons at the bottom of this dialog.
Site description:
Client name:
Frequency
Range
Emission designator:
Callsign:
This web app shows you where all of Australia's registered radiofrequency transmitters are found

.
Cell towers are specifically indicated by the carrier's icon, or a red mobile phone

.
You can:
Search by site descriptions, client names, frequency ranges, emission designators and callsigns.
Right-click on the map for the context menu (clustering options, view control, etc).
Click on a site to show its summary (assigned frequencies, clients, etc). Hold your cursor over the data to reveal more details.
Show a transmitter's radiation pattern.
Click on an assignment's link number to show any linked sites.
Copy & paste the URL to send the location to others (to send a site, keep the summary window open).
For more information regarding searching (e.g. how to specify certain parameters), see 'Help'.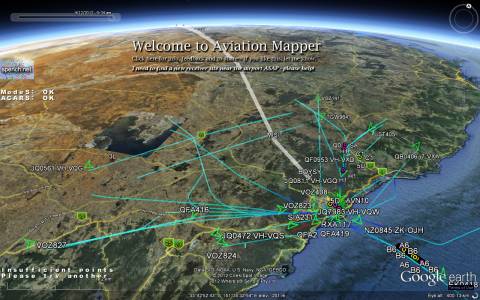 Aviation Mapper is live! Click here to try it.
AvMap is a real-time web-streaming 3D visualisation of Sydney airspace in your browser using Google Earth.
You can see ADS-B-enabled planes, use virtual cockpit mode to imagine what the pilot's view is like, and have ACARS (operations/performance/flight info) messages shown spatially when they are transmitted/received by the aircraft!
The brand-spanking-new tile image layer system is finally here and ready for public beta testing.
A few of the layers should have automatically been switched on for you: "Black" to darken the map, elevation data from NASA's Shuttle Radar Topographic Mission, all registered sites, and all point-to-point links.

To avoid automatically fetching sites when exploring the tile layers at different zoom levels, make sure you un-check the "Fetch sites" check box in the top-right of the map.
If you don't see anything, zoom out. Please tell me what you think!
INTERNET EXPLORER USERS: Everything works now, however IE's tile image compositing is very slow and the quality is terrible. Please switch to Firefox, Chrome, Safari or Opera - they are all snappy, standards-compliant and produce beautiful results!
For the ~10% of you, Internet Explorer 7 and below will no longer be supported. Although everything will still work, it is slow and does not render various UI elements correctly.
If you use it, please switch to something far better like Chrome or Firefox, which offer standards-compliance and optimal performance for this site.
The new Search Wizard has been added! (It should appear behind this dialog...)
Automatic triggering of search-term auto-completion has been disabled as it obscured the search overlay.
Auto-completion itself still works - just hit TAB to retrieve suggestions for the word and phrase the caret is in.
New 'Fly to location' button in the top right for fast flight.
View filter dialog now supports callsigns, and the condition editor has been improved.
If you have a moment, please let me know what you think of the Wizard and View filter (Feedback button on the top right of the map). Thank you!
RFMap by Balint Seeber, 2010-2011.
All tile image content is © copyright. Screenshots accompanied with a link back here are permitted.
This site makes use of:
The Australian Communications and Media Authority's (ACMA's) RadCom registry (with permission).
All information from the RadCom registry is copyright © Commonwealth of Australia.
For the latest, most up-to-date information, make sure you right-click on the map and select 'Update Tiles'.
Nevertheless, this site should NOT be used as the official version of the RadCom registry.
Google Maps V3
JSON2
jQuery, jQuery cookie & jQuery UI
Yahoo YUI
markerclusterer by Luke Mahe
Important legal notice:
The following Telstra, Optus, Vodafone and Hutchison '3' logos:




are trademarks, belong to their respective owners, and are used on this site under fair use for the purpose of non-commercial research. Absolutely no sponsorship is suggested by their use, and none of the aforementioned companies is in any way affiliated with this site. The logos are used solely to demarcate transmitter sites (which is already publically accessible through the ACMA RadCom database) and nothing further.
The following shows the various parts of the tile control interface in the bottom-left corner of your browser window:

Here are some tips for efficient searching using the search text field above the map:
If you wish to precisely set filter fields, enter one of the following letters and a space before the term(s):
s for site
c for client
e for emission designator
v for callsign
Following such a letter, terms can be grouped using double quotes - if not, only the next word is used. To specify a phrase inside such double quotes, use a single quote (e.g. s "'some site'").
If you wish to move the map and set a filter, enter the location, followed by a full stop (.), then the filter expression (as above).
Pressing ENTER (equivalent to clicking Auto Search) will try to determine whether you want to fly somewhere, or filter site results. If the opposite action (to what you wanted) occurs, click the hyperlink in the orange box that briefly appears.
For manual control, click Fly To to move the map to that location, or click Filter to filter currently visible sites.
If you want to search for words in a site description or client name, simply type them in. If you want to search for an exact phrase, enclose the phrase in double quotes (e.g. "some thing").
If multiple criteria are required, separate the appropriate terms by commas. For example: telstra, optus, voda, hutch. Not using commas would look for sites and clients containing all those words.
You can filter by frequency by entering in a number, optionally followed by a unit (khz, mhz, ghz). If you want to search a range add a:
Plus (+) to set the range above (e.g. 100mhz+10 searches 100 to 110 MHz)
Dash (-) to set the range below (e.g. 100-10mhz searches 90 to 100 MHz) or the upper limit (e.g. 100mhz-120000khz searches 100 to 120 MHz)
Slash (/) to set the range either side of the centre frequency (e.g. 1ghz/500mhz searches 0.5 to 1.5 GHz)
Fully-formed emission designators are also automatically detected. You can specify a wildcard search using ? (one character) and * (zero to many characters).
Valid, fully-formed Australian callsigns are automatically detected (wildcard searching is now available).
IMPORTANT ANNOUNCEMENT - PLEASE READ
Dear visitor,

Thank you for using this web app – it has seen a steady increase in traffic since its launch two years ago, and I appreciate you spending your time here. Despite this, I am unable to continue running the site as a free service.

If you find this service valuable please contact me.

I hope you can appreciate my position.

Yours sincerely,
Balint Seeber
Please click the 'Close' button to continue.
The Australian Geographical RadioFrequency Map provides a rich interface for viewing all of Australia's registered radio frequency transmitter sites. This includes mobile phone tower locations (cell sites) that belong to Telstra, Optus and Vodafone, wireless broadband (3G, NextG and WiMAX), amateur radio operators (HAM sites) and all other sites (frequencies, spectrum assignments) that have been licenced by telecommunications companies, the government and individuals. The mashup is searchable using a number of criteria: client, site name, frequency, callsign and emission designator. The site summary can be used to show inter-site links for point-to-point microwave links, and radiation patterns. The tile image layer (overlay) system is used to visualise broader aspects of the RF landscape, such as mobile operator network footprint, rollout, coverage and possible blackspots, as well as elevation and other geospatial information. The Australian Geographical Radio Frequency Map, RF Map, or RFMap, also serves as a cellular mobile coverage map.